Strongpoints
Cutting height: 80 mm
Cutting length: 560 mm
Depth of the table: 560 mm
Narrow cut: <15 / 60 mm
Description
New generation programmable electric guillotine – for increased efficiency and productivity by working smarter. With IR light curtain and hydraulic clamp drive.
IDEAL The 56: The Cutter of the Future
Well-designed digital features, intuitive controls and easy operation: THE 56 makes guillotine work easier and more satisfying than ever, even on demanding projects. Enjoy optimized workflows and flawless precision.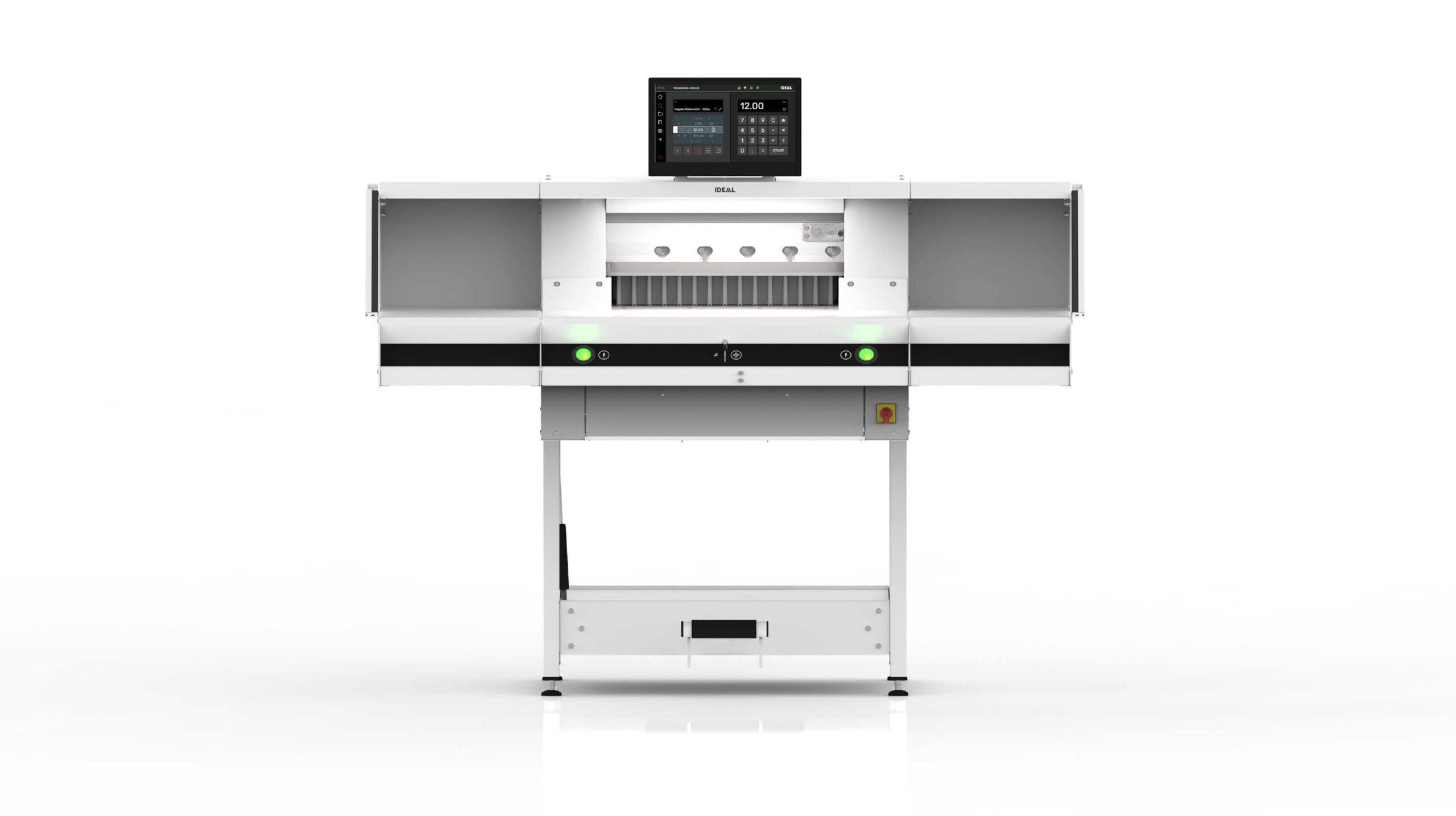 Pleasant for the hands, comfortable for the eyes: the screen has an infinitely adjustable inclination and adapts perfectly to the lighting conditions and the ergonomic needs of the user.
15.6"
diagonal size touch screen - use it as a tablet
THE 56 Beautifully simple
The intelligent user interface ensures that every new user feels instantly at home. The screen focuses the eye on the essentials - with an intuitive touch and just when you need it - no more, no less.
File manager Folder system with
folder system with freely assignable tasks, project selection via USB, meaningful project names and time-saving search function
Program mode
One-step display with active/inactive parameters, cutting steps can be changed separately, freely editable text field for customer-specific information
Adjustable default values
Operator-specific default clamping pressure and backgauge speed, automatic loading at start-up
Interactive support
Blade change support via animated videos, help/FAQ integrated in the program, updates via USB stick download
The 56: Powerful performance
Redefining efficient guillotining:
The ideal The 56 guillotine is so smart, you no longer have to choose between accuracy and productivity.
Accuracy: Clean edges with every cut
Safety: Safety Cutting System (SCS)
Comfort: Ergonomic sound for every user

Need more information ? Contact us
Some of our partners