Laptop : HP ProBook serie 400
HP
Strongpoints
AMD Ryzen™️ 5000 series mobile processors
HP Sure View 13.3" diagonal optional UWVA FHD touchscreen privacy display with 1000 nits
The new thin and light design makes it easy to carry from your desk, office to home.
8th generation Inte processors
Description
Power and style combined: tackle your daily workload and more with powerful processors and exceptional battery life in a slim, lightweight, feature-packed PC.
HP ProBook serie 400 : DESIGNED FOR BUSINESS
A stylish choice: powerful processors and exceptional battery life with fast charging in a unique design with a sophisticated finish.
TAKE ON THE DAY WITH POWER
Get through your many time-sensitive daily tasks with the latest 8th generation Intel® processors or 7th generation AMD Pro Series A accelerated processors.
DURABILITY
Don't worry about shocks with a notebook that can withstand 120,000 times HP's total test process and withstands MIL-STD 810 G testing.
DESIGNED FOR DOCKING STATIONS
Quickly set up at a desk with two monitors, a full-size keyboard, and a wired network using a USB Type-C cable that transmits data, display, and power.
Discover all the practical features
The HP ProBook serie 400 series laptops go from classic notebook mode to tablet, media and tent mode so you can easily present, collaborate and share.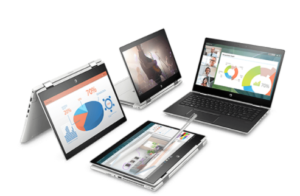 Present in tent mode: Switch to tent mode to share your presentations and videos.
Write in tablet mode: Turn your business notebook into a thin, light tablet and stay connected.
Watch in media mode: bring the screen to the forefront to watch videos and streaming content.
Work in laptop mode: get your work done with all the features of a full-featured laptop.
Want to know more? Contact our IT expert
Some of our partners