Print
CK has just acquired two new I2S CopiBook Open System book scanners. This fourth generation offers improved technological performance and image quality, building on ten years of experience with the model.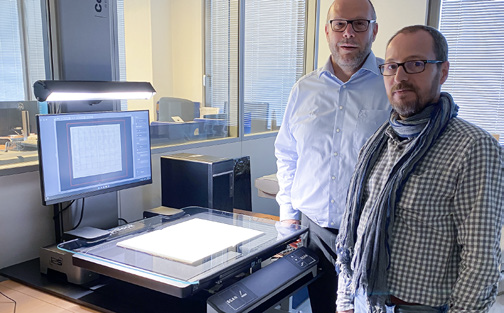 Philippe Schweitzer (Advisory & Document / Managed Services – Manager)
& Joël Clercq (Production & Scan Coordinator)
This equipment will enable our workshop to enhance its scanning services for old documents (archives) or bound documents (books) for institutional and/or private clients.
Why invest in equipment like this?
We already have equipment like this from an older generation, with overly long capture times and complicated operator procedures. In addition to its compliance with the ISO 19264-1 standard and image quality directives (Metamorfoze and FADGI ***), this new generation enables capture at 400 dpi in less than a second. We will now be able to offer our scanning solutions to institutions with even the highest quality requirements and provide a better service to the clients who have already placed their trust in us. In summary, we are able to offer better quality at a faster speed in the best possible conditions for our operators
What can these scanners do?
This equipment offers numerous options: fragile bound or unbound documents, books, journals, maps (up to A2 format) and more. It allows us to conduct projects with high page volumes, since depending on the item type, we can scan up to 700 pages an hour compared with 300 using our previous model. At full capacity, we can scan around 10,000 pages within a working day using the two pieces of equipment. In addition, as this model is as robust as its predecessors, we can continue to provide services to our clients whilst also reducing our time onsite.
Alongside these services, what other scanning services does CK offer?

CK can meet any needs our clients may have. Our experts assist with needs analyses in an advisory role, then throughout the service implementation process, complying with the characteristics of each document library and the criticality of the information being handled. We work with all formats, from sales receipts to architectural plans. Our workshop receives daily document volumes ('Daily') from various financial market institutions (letters, client files, invoices etc.), but we also undertake archiving projects ('Backlog') for high volumes, enabling us to meet our clients' information asset preservation requirements.
We can offer you this service on our secure premises or within your company:
Digitising incoming supplier invoices
The invoice digitising solution has numerous benefits in terms of direct costs, productivity, lead times, risks and quality. We capture relevant data and provide it to you for inclusion in your information system.
Archive document scanning
Digitise your documents to protect them, put them to use, exploit their content and ensure reliability and long-term- existence.
Incoming document scanning
Did you know? 82% of companies think that incoming document management is a critical function within their organisation. We take care of the scanning and provision of scanned documents in accordance with strict deadlines (T or T+1 depending on your needs), allowing you to devote your attentions to the added-value tasks that the documents enable.
Scanning and indexing civil registers
Manuscripts, bound registers or loose sheets, regardless of the year, condition or quantity – we can scan your registers. We allow you to improve the service that you provide to citizens whilst also ensuring that your registers are physically preserved.
HR file scanning
Simplify HR management, centralise information and access it easily, and oversee your activities. We ensure total confidentiality when handling your files, with limited access to the production area.
Map and large-format document scanning
We scan your maps and large-format documents (A3 – A0+). Regardless of the size, quantity or condition, our map scanning service takes care of everything.