Print
After their successful implementation in the public transport, airport, tourism and fast food sectors, the AIRxTOUCH® KIOSK contactless interactive kiosks developed by Samsung and iNUI Studio are now entering the corporate world. The law firm Arendt has indeed chosen to install 29 contactless interactive kiosks at its Luxembourg headquarters, in order to offer an innovative, interactive and user-friendly communication channel to its 1000 employees.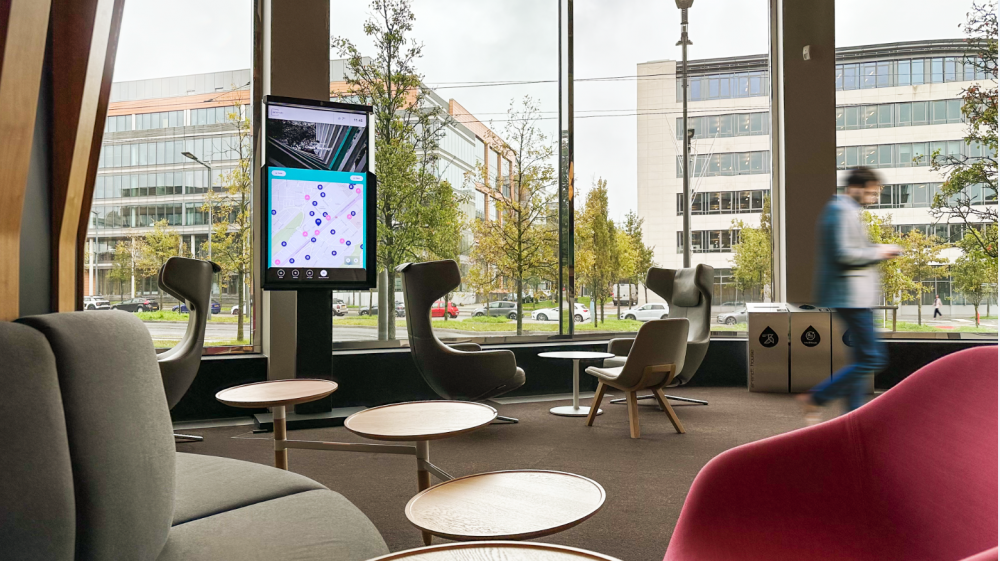 Specifically, 29 Samsung QMB Series 55″ screens offering ultra high definition 4K image resolution were integrated into the systems equipped with AIR TOUCH® optical sensors and a powerful processor. These were installed at the different Coffee Corners in the two Arendt buildings, allowing the teams to interact with different information modules.
Touchless interactive kiosks to enhance interaction
​The content of the screens is managed directly by Arendt's Marketing & Communications team using SKA, a cloud-based software platform also designed and developed by iNUI Studio. All kinds of information can be displayed: internal corporate news, real-time traffic conditions, the firm's events calendar, the company restaurant menu, content available for download, etc. Interactivity and user-friendliness are therefore the key words of these new terminals, which also strengthen social cohesion within the company. Employees can share their opinions by answering surveys, browse photos of events or even take advantage of a coffee break to play on the screen with a colleague!
" The way employees can communicate and connect with each other is crucial to an effective workplace. The AIRxTOUCH® KIOSK experience combined with iNUI's software platform enables companies to help their employees feel heard, improve efficiency and provide an entertaining experience. Samsung Professional Displays have played́ a key role in creating this stable and secure environment with top performance," said Kristof Willems, Product Management Manager Professional Displays at Samsung Benelux.
Touchless revolution
Based on powerful algorithms, the patented AIR TOUCH® technology is as easy to use as a traditional touch device, without requiring users to physically touch the screens. This is a revolution in itself and is in line with current trends, as "contactless" has become almost indispensable today, especially since the pandemic. Thus, even at a distance of 4 cm from the screen, Arendt's employees can perform actions such as clicking, double-clicking, dragging and dropping or using the zoom function, with a precision of 3 mm. In addition to the technological aspect of the kiosks, the aesthetic dimension has not been left out.
" The notion of aesthetics has always been central to the design of our product. Installing our systems in such prestigious buildings as those of Arendt is therefore a form of achievement. The systems produced for Arendt are finished in an exclusive "frosted white" colour and, fixed directly to the wall, they allow for a very neat installation in perfect harmony with the premises. Working with prestigious clients in the corporate sector to equip their Coffee Corners and receptions is part of our business development strategy in Europe and North America, " added Olivier Raulot, Founder and CEO of iNUI Studio.
The new interactive kiosks have been well received by Arendt employees, as Marie-Adélaïde Leclercq-Olhagaray, Marketing & Communications Director at Arendt, attests: "After an adjustment phase, our staff has been very enthusiastic about using this new communication tool. The usage statistics are very encouraging and this new format allows us to communicate more creatively and on a wide varietý of topics."