The various events have accelerated the implementation of home working. This will continue through a hybrid model between remote and face-to-face work.
At home, employees need the same level of printing equipment as in the office.
Are you interested in implementing telework?
Is telework already underway in your organization?
Do you need to deploy telework for an emergency situation?
Towards the end of printing with telecommuting?
While telecommuting has brought "100% digital" to the forefront, printed documents are still not dead! Paper will not disappear from work processes.
Why ?
Because paper is a format that has adapted to this digital transformation. To cite a concrete example, the majority of accounting firms have found themselves faced with the need to equip their employees with telecommuting due to the large number of operations requiring the use of physical documents.
"A home printing equipment, adapted to the needs, allows to print and to control the costs but also to keep the control on the volumes."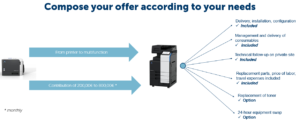 Your advantages to facilitate the telecommuting of your employees

Have quality equipment without costly investments and only pay for your actual printing volumes.
Guarantee your employees an optimal equipment followed by a quality technical service.
Management and delivery of your printer consumables.
Keep your mind at ease against intrusions, your equipment is secure.
Have your printing under control in a secure environment.
Terminate your contract at any time, free of charge.
Contact us for an presentation of the offer