Print
Need more information about our services?
Contact us
In 2023, in the age of digital technology, start-ups and other new 100% digital companies, paper archives are no longer of interest... at least, they no longer seem to be an issue for companies!

You probably think that paper archives are only a testimony of a more or less distant and dusty past? But it is quite the opposite! These archives, created every day and under several forms, are essential to the good functioning of a company, an association or an administration...
From their creation to their final conservation, archives have important functions. They contain organizational data, they serve as evidence, as justification, they testify of a company culture.The digitization of paper archives is one of the links in the digitalization of companies today.
It creates a bridge between the paper model and the digital model, by harmonizing work methods for employees.Some may say that digitizing paper archives is a cost. But have they considered the potential benefits of this treatment?
What are the benefits of archiving?
Saving time in research: once the documents have been digitized and filed, all the information contained in these documents is accessible in one click, thanks to indexing.
Respond to accessibility issues: no need to be present in the office or to move to the archive room to consult the document you are looking for, even if you are mobile, business continuity is assured.
Preservation and enhancement of your company's informational heritage: once the content of the archives is known and digitized, all the information and knowledge related to its activity will be preserved from the degradation of time and can be used to highlight it on certain occasions.
Securing archives and personal data: before digitization, the security of personal data may not be guaranteed and may lead to fines of up to 4% of the company's turnover under the RGPD.
Saving space: getting rid of paper archives will allow you to save space that can be reallocated and generate added value to your business.
...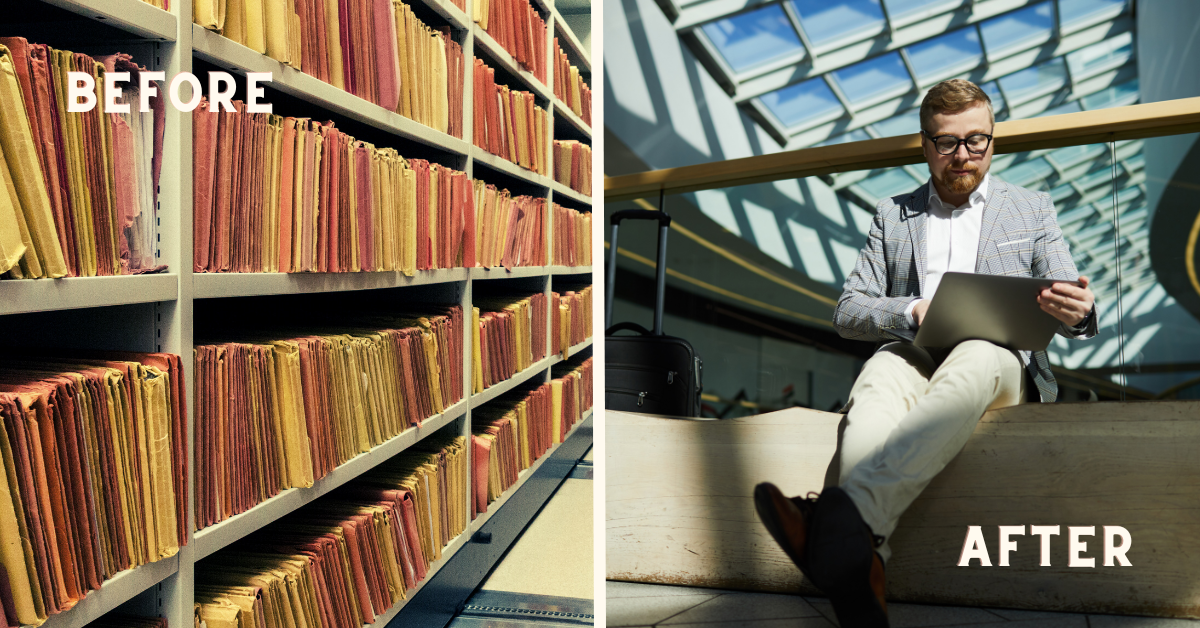 CK experts accompany you from A to Z in the digitization of your archives...
Through our services, we invite you to take control of your archives, and offer you personalized support adapted to your needs via several tools/actions:
Upstream of the digitization process, by conducting an inventory to establish a map of the existing records.
By sorting your archives, clearly identifying, according to their type, the documents whose digitization is recommended and those which are not necessary.
Digitize, after depollution (removal of staples, bindings, paper clips or any other binding element), your archives on equipment adapted to their format and state of preservation.
Extract key information and transform it into usable data for your business processes.
Carry out all quality controls to ensure the fidelity of the digital files with respect to the paper documents.
Make indexed digital files available (in our EDM, Doc.Series, or to your own tools or those you choose)
Recondition your archives to return them to you or store them on an external site - manage their destruction (security constraints related to your activity)
...and the implementation of tools allowing you, thereafter, the dematerialization of your business processes in an autonomous way.
For public institutions, we support you in complying with the Archiving Law which came into force on September 1, 2018 and which aims to regulate archiving in the public interest.
Learn more about the new archiving law:
https://mc.gouvernement.lu/fr/actualites.gouvernement%2Bfr%2Bactualites%2Btoutes_actualites%2Bcommuniques%2B2018%2B09-septembre%2B03-loi-archivage.html