Interactive screen Speechi
Speechi
Description
Speechi interactive screens can be easily adapted to your environment: meeting rooms, classrooms, lobbies, exhibition areas (museums, galleries and department stores, etc.).
Documentation
Documentation
More than a giant Interactive screen: a real giant touch tablet.
With their built-in Android core, Speechi interactive touch interactive screens are as easy to use as tablets. Use the pre-installed applications, add your own and enjoy an interactive screen designed around the user journey, as complete as it is intuitive.
Your cookie settings prevent this content from loading. To gain access, please
During your presentations, you interact with your screen. No need for a peripheral or any other hardware: Speechi interactive screens are completely autonomous and intuitive.
You can also access your files from anywhere at any time thanks to the Cloud functionality (with Google Drive and One Drive) integrated directly into the Android interface of your screen.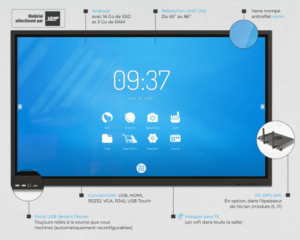 The screens come in different models and sizes:
Interactive screen SpeechiTouch SuperGlass (de 55″ À 98″)
SpeechiTouch infrarouges (de 65″ À 86″)
SpeechiTouch Capacitifs (43″ À 86″)
Some of our partners