Strongpoints
Lecture Multimédia
Vue à Distance 
Verrouillage Présentation 
Description
Your Wireless Presentation System by Kindermann!
Present wirelessly, save time, be more productive and efficient.
KLICK & SHOW allows you to present content from your laptop or mobile devices on a large screen.
Turn your meeting rooms into a wireless communication and collaboration space.
Screen sharing becomes as easy and intuitive as the click of a mouse, perfectly supporting business and educational applications.
Using a KLICK & SHOW K-40 system results in a clean and tidy meeting room with no adapters or cables on or under the table.
Collaboration – simple and secure
Its simple operation makes Kindermann Klick & Show the right choice for your meeting rooms, small spaces or in educational institutions or seminar hotels. You can be assured that your content is secure while being transmitted wirelessly, due to the implementation of security standards. Kindermann Klick & Show is available as a kit: base unit + transmitters.
The Klick & Show base unit is a powerful WiFi receiver for processing audiovisual content from various devices and media types. The transmitter works with WiFi. It has a sleek design and an easy-to-use touch dongle, which is connected to the laptop via USB. A light touch on the surface of the dongle activates the laptop as the active source during the presentation.
CLICK & MOUNT K-40
The universal wireless presentation solution
Intuitive transmitters available with 3 different connection options
Works on all major operating systems
Perfect price/performance ratio
Ready for 4K60
SERIESK-40 – OPTIONS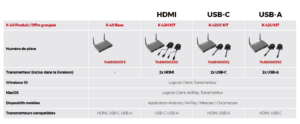 Some of our partners