During its Tomorrow's Office event last October, Charles Kieffer Group presented two new offers to facilitate the document management of its customers. On this occasion, Vincent Kolaczynski, Executive Officer - Solutions and Scanning, and Yann Ramspacher, Solutions Sales Coordinator, presented a new Electronic Document Management (EDM) tool, Doc.Series, as well as an innovative document and data reading tool resulting from the introduction of artificial intelligence in the solutions already offered by CK.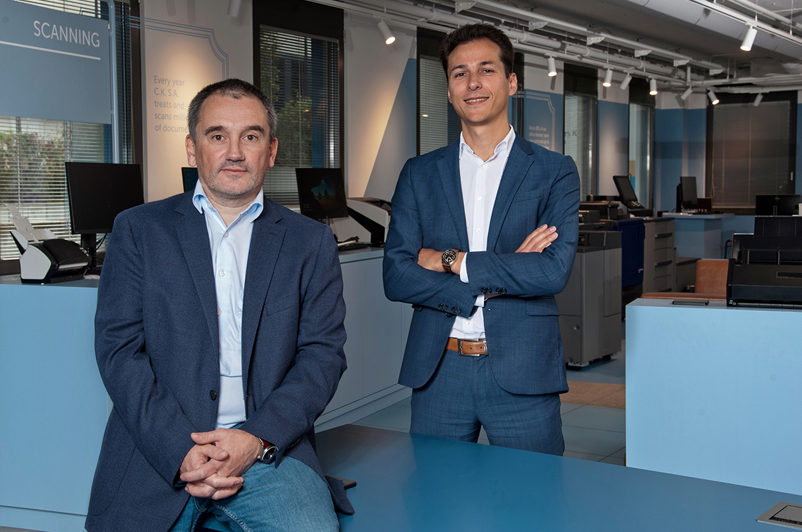 What is your Doc.Series EDM offering?
YR: We recently launched this offering for small and medium-sized businesses in SaaS mode. Since the application is hosted in our cloud, it does not require any particular infrastructure and can be deployed very quickly for our customers.
Doc.Series, developed by a Swiss company, is a solution that we can easily adapt to our customers' business and way of working, and to the documents they need to process, whether they are letters, invoices, work orders or other types of documents. In case of specific requests, we can develop plug-ins in the tool. Finally, this solution offers better visibility on costs, since our rates are expressed as a price per month and per user, with no surprises for the customer.
VK: This platform is secured and backed up on our cloud, monitoring and updates are done by us, remotely. This solution is web-based and does not need to be configured to allow remote access to files, so workflows remain unchanged whether employees are in the office or working remotely.
This application is not just a storage tool! It has many features such as automatic processing of scanned documents, versioning, case management, validation workflow, archiving, electronic signature and search. It therefore provides added value to companies, such as file sharing with external parties, in a secure manner and without setting up complicated and costly technologies or parameters.
The tool also allows to define a dashboard specific to each user in order to become an entry point centralizing the daily work of the employees. The documents to be processed and the tasks to be carried out can be found there in the form of a personal or company portal.
How have you integrated artificial intelligence into your document processing solutions?

VK: The solution we offer is based on "Deep learning", which means that the machine creates its own rules to define its processes, independently of a human predefinition. It allows to understand the nature and the content of the processed documents without important and expensive parameterizations. This solution, adaptable to the number of documents of the customer, becomes therefore profitable for small volumes and allows to dedicate human resources to tasks with more added value.
Our customers have two alternatives: delegate the processing and dematerialization of their documents to us with defined service commitments (SLA, KPI, KQI) or integrate this technology into their ecosystem. For this second option, we define with the customer the software(s) to which we must connect (ERP, CRM, etc.), the type of document(s) to process or the repetitive tasks to automate. We use our solution in SaaS mode, respecting the RGPD framework and based on a European hosting. Thus, the objective is to create a connector between the customer's solution and our technology, so that he can send his documents to our application and that it returns them to him in the form of data ready to be injected into his system(s).
Is it possible to combine these two solutions?

YR: It is indeed possible to process documents using the artificial intelligence tool, which then sends the documents and the extracted data back to our electronic document management solution. This means that the entire process from the arrival of the document in paper or electronic form to its final processing is covered.
VK: All paper and electronic documents can be fed into Doc.Series EDM with built-in tools such as barcode separation, character or word recognition, data extraction, etc. Using artificial intelligence, we can also provide automatic classification of documents and a higher rate of automatic data enrichment.
To sum up, through these two software solutions, CK intends to improve office environments allowing users to work better and organizations to gain in efficiency and productivity.
Interview by Martina Cappuccio
Vous souhaitez réaliser un projet GED dans votre entreprise ?
Nous vous accompagnons pour répondre à vos besoins.