Print
The digital interactive whiteboard is a very popular tool for teachers and schools. However, for some years now, a new tool has been competing with it: the ENI or interactive digital screen. Let's take a look at the interest of such equipment in the primary classroom.
What advantages does the ENI have over a TBI?
How is the ENI an interesting pedagogical tool in elementary school?

An ENI in the primary classroom rather than a TBI: incomparable working comfort
As soon as we look at the question of comfort of use, the TBI does not hold the comparison for long. Let's quickly mention these comfort issues that ensure a much better working environment for both the students and the teacher.
A display quality and brightness that remain equal over time (no lamp that gets dirty or breaks).
No need to "condition" the classroom by drawing the curtains for accurate color rendering and contrast.
A speed of launch identical to that of an Android tablet.
The possibility to work directly on the ENI without connecting any PC (or to broadcast the PC screen on the ENI).
A tactile precision that is accurate to the millimeter without any lag between the tip of the pen and what you draw.
No drop shadow because the light source comes from the writing surface - the screen - and not from a video projector.
Now, let's come to what makes the ENI a tool with a high pedagogical potential from CP to CM2 and whose advantages are similar to those of an ENI in kindergarten classes. Let's take a look at the possibilities offered by a Speechi interactive digital screen in a primary school classroom.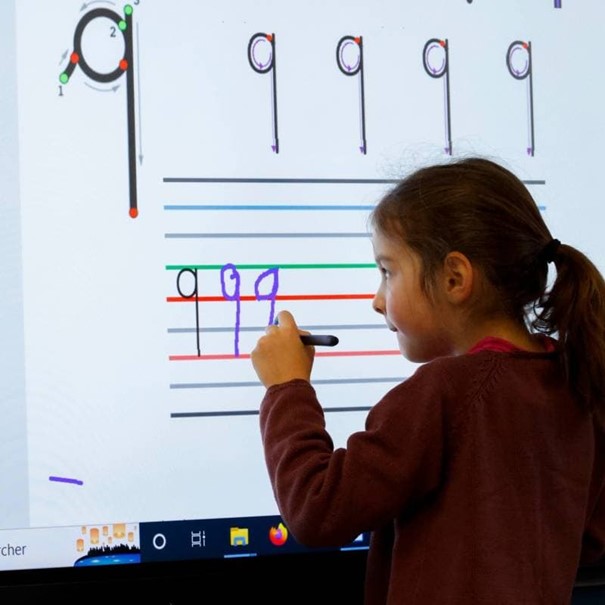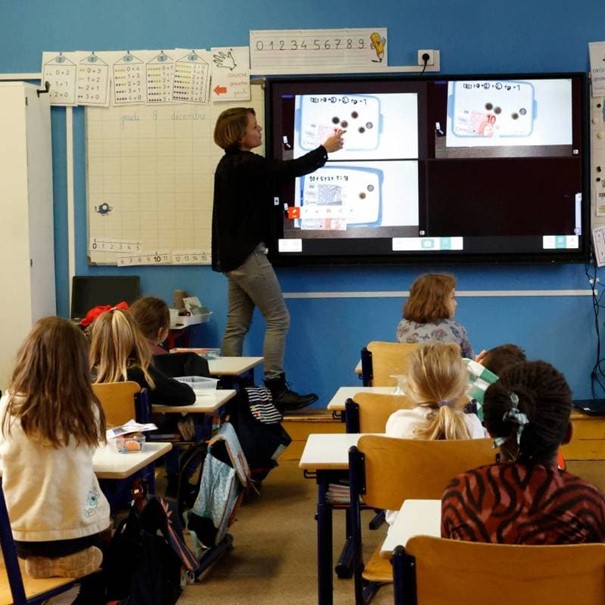 Learning to read on an ENI
To do spotting or deciphering exercises, to read texts or even to linger over the various illustrations, the ENI is a great visualization tool on which the teacher can zoom or annotate.
Learning to write on an ENI Speechi
With the ENI, the teacher will need much less preparation when students go to the blackboard to practice writing. With the Write or Note application, put writing lines in the background or download a dedicated application onto the screen.
The writing comfort is much better than on a TBI thanks to the precision of its touch and the ergonomics of its pens.
And more, like the discovery of art...
Within the four walls of a classroom, the interactive digital screen, thanks to its access to the web and the infinite resources it offers, becomes a window on the world.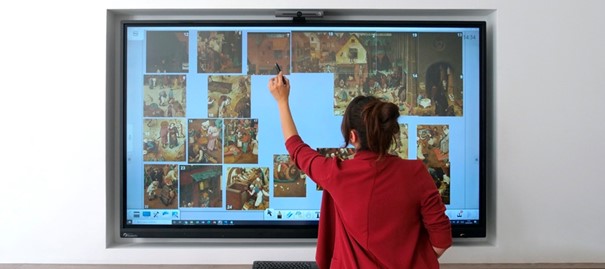 ENI is a great tool to discover cultural works in their most impressive and beautiful aspects, but also to bring a playful dimension to this discovery. Whether it is by putting together a puzzle of a work of art or by taking a virtual guided tour of monuments or museums, the possibilities are numerous and the teacher's creativity is free to express itself.