Print
Schools, from kindergarten to high school, have been entering the digital age for several years now and are now referred to as digital schools. This began with the first computer rooms, computers available in schools, the democratisation and multiplication of the use of digital boards, etc. Behind the digitalisation of schools are several objectives and several actors. In this article, we propose that you learn a little more about the workings of digital development in elementary schools.

Focus on three types of digital school classes
Digitalising the school is not about providing every student with a tablet or a computer. Firstly, because this is not a desirable goal, but also because it is not feasible in any case. Digitalising schools means understanding the problems of teachers, taming the constraints of schools, and imagining a healthy and educational digital school. This is why not all digital schools are alike and why there are several ways of digitising the school, depending on the objective to be achieved.

The digital classroom
The digital classroom is built around an interactive screen, a video projector or a TBI (fixed or mobile, coupled with a whiteboard). It is also composed of tools compatible with the interactive screen: a portable PC, a document viewer, programmable robots, etc.
The hybrid classroom
The hybrid classroom is the most recent model of classroom: it is the one that has allowed educational continuity during the closure of schools. It contains the same equipment as the digital classroom, but with the addition of video-conferencing cameras and a preference for mobile tools.

The mobile classroom
The mobile classroom is a classroom model more commonly found in higher education and less suited to elementary schools. It often has movable furniture, such as tables and chairs on wheels, and a charging system for laptops and tablets. Interactive screens and mobile TBIs are often available to the lecturers.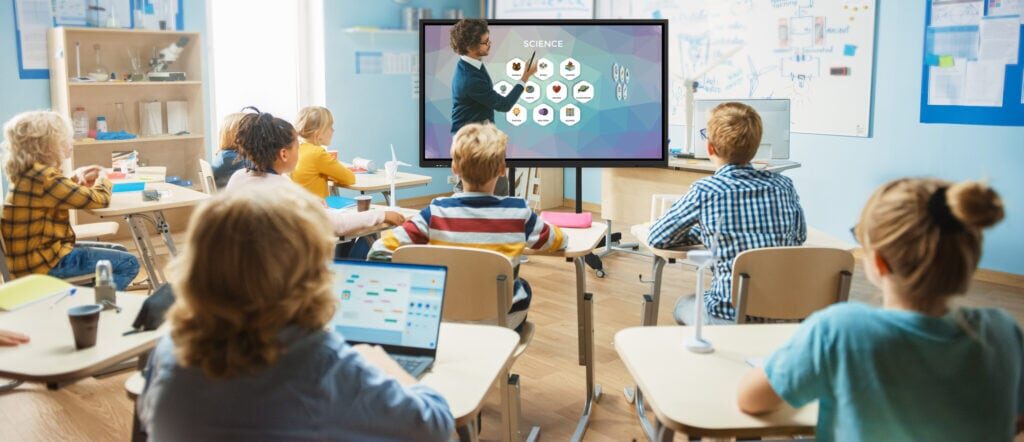 The aim, as you will have understood, is to bring more digital technology into the school. But in concrete terms, what advantages does the digital school bring? Why is there such an urgent need to digitalise schools and to provide a digital base in elementary schools?
Immersive and creative lessons
Capturing students' attention through digital technology is no mirage. The use of tools such as interactive screens makes it possible to multiply the applications and to immerse pupils more fully in the lessons. These tools, which can be manipulated and which help with visualisation, are an aid for the teacher.
Improving knowledge sharing
The aim is also to relieve teachers of certain repetitive tasks and to improve teaching efficiency by saving lessons from one year to the next, by allowing them to be worked on on a PC or an interactive screen without compatibility problems or simply by allowing lessons to be sent easily via the Internet.
More inclusiveness and possibilities
New educational technologies have a crucial role in the challenges of the inclusive digital school. There are two main areas of focus: contributing to learning for students with difficulties or disabilities, and assisting with digital education for those who do not have access at home.

Interactivity and group work
With interactive screens that can detect up to 20 different touch points and numerous Android-based educational applications, group workshops are multiplied in the digital school. The construction of robots and the development of programs can also be done in groups.
CK will help you to think about and set up your digital classroom. Contact us to get in touch with our audiovisual experts.