Strongpoints
High productivity
Digital beautification device
UV inkjet technology
Varnishing on offset and digital printing
Eco-friendly LED dryer
Description
It's time to offer your customers more value and creativity in your printed work! The JETVARNISH 3D One transforms your prints into spectacular and compelling products that will immediately catch your customers' attention. Highlight defined areas, easily add 3D effects and offer your customers unique products and an unprecedented tactile sensory experience.
The MGI JETVARNISH 3D One uses a universal varnish with 2D or 3D effects, for flat, relief and numerous texture effects in one pass.
Some of its key features include
Varnish thicknesses from 21 to 116 microns in one pass
AIS scanner for fully automated page-by-page registration, no printed crop marks, no waste and quick adjustments
MGI software suite, including Spot Varnish Editor, for editing a print job 'on the fly', a cost calculator and a print job management tool
In terms of basic technical features, MGI technology is combined with Konica Minolta's piezoelectric print heads.
The JETVARNISH 3D One accepts both offset and digital prints.
The varnish is dried and fixed by LEDs to limit ozone emissions. It can finish up to 2,077 single-sided pages per hour, ranging from A3 to 364 x 750 mm.
Optional features include :
Customisation and variable data,
automatic conversion of PDF files to TIFF files,
AIS scanner lamp for processing metal substrates.
Discover the benefits of the MGI JETVARNISH 3D One
High productivity with one-pass printing
High-end digital embellisher with speeds up to 2,077 A3 sheets per hour
UV inkjet technology combined with piezoelectric print heads for high quality
AIS SmartScanner for automatic sheet-to-sheet registration
Included software suite that allows you to track your jobs, manage your job queue, create work orders, recall reprints and manage your
and adjust your AIS scanner in one simple and intuitive tool
Varnish on offset and digital printing with and without lamination that makes your workflows very flexible
Variable coating thicknesses from 21 to 116 microns for 2D and 3D tactile effects in one pass
Eco-friendly LED dryer for an ozone-free environment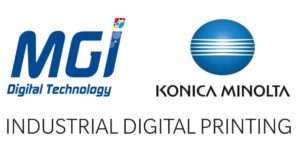 If you would like more information about MGI JETVARNISH 3D One, please contact us
Some of our partners