For many years now, the audiovisual department of CK Group has experienced strong growth, reinforced by the health crisis and the digitalization of many services. In order to diversify its offer and to meet the new needs, CK Group has become the exclusive distributor of AIRxTOUCH® | KIOSK. This contactless technology has been entirely designed and developed in Luxembourg by iNUI Studio, a startup active in innovative application solutions.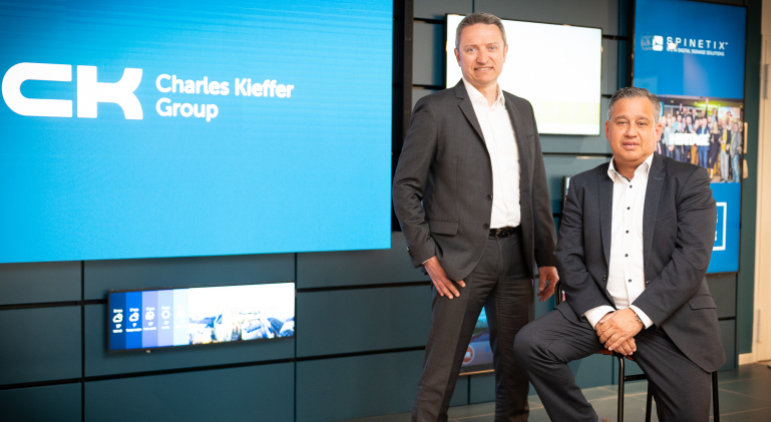 An update from David Gray, Managing Director of CK Group, and Pierre Di Bari, head of the audiovisual department.
Can you explain us what this new product is about?
DG : AIRxTOUCH® | KIOSK is an interactive kiosk, consisting of a bar patented by iNUI Studio, a 55-inch Samsung professional screen in portrait format and a powerful Intel NUC PC. Placed above the screen, the bar diffuses a beam of waves that allows the kiosk to be operated from a distance of 5 cm, without any physical contact, but by simple motion capture and with a precision of 3 mm.
PDB: This product has a double advantage. The first is health-related: you don't have to touch the screen. This prevents the transfer of viruses or bacteria. Second, applications and content can be created and managed remotely. These are located in a cloud. A computer, placed behind the interactive kiosk if it is hung on the wall or in its base if it is fixed on the ground, makes the link between the data contained in the cloud and their display on the screen. The interconnection with the cloud can be done by a wired network, a secure Wifi network or the mobile network (3G, 4G and soon 5G). The customer has two options when it comes to content: either he manages it himself using predefined templates in the SKA Suite™ software developed by iNUI Studio, or we take care of it. Custom applications can also be developed by iNUI Studio if the client wishes.
Intuitive and available in four colors, the interactive kiosk we sell allows for an interactive, dynamic, personalized display and... adapted to any type of audience! Indeed, only 60% of the screen from the bottom are interactive. All the buttons must therefore be located in the lower part of the terminal to allow people with reduced mobility and small size (children for example) to use them.
"Contactless has become the standard for kiosks and touch screens today"
PDB: On January 25, iNUI Studio launched two pilot experiences, one in Luxembourg and the other in Canada. Interactive kiosks were placed at the train stations in Luxembourg and Pfaffenthal as well as in four restaurants of the Canadian restaurant chain St-Hubert. The results are very encouraging and suggest that this type of kiosk will become increasingly popular in the years to come.
Who are your target audiences for this type of product?
DG: Virtually all sectors are concerned: hotels, tourism, the public sector, cultural places such as museums, transport, the hospital sector... I think this product is timely for two main reasons. The contactless kiosks will gradually replace the old models and will eventually become the standard. Following the health crisis, new forms of interaction and communication with the public have been introduced. Interactive terminals will be more and more present in our lives, whether in local administrations to simplify administrative procedures or in shops so that the customer can directly order a specific reference that is not in the store and have it delivered to his home.
What added value do you bring to the marketing of this product?
DG: The great strength of our group is the quality of the service we provide to our customers. Our 50 technicians manage everything from A to Z: from installation to removal of the equipment at the end of its life, including configuration, positioning, maintenance, repairs and eventual replacement. Each of our technicians is specialized in several fields. Thus, for AIRxTOUCH KIOSK, a dozen of us have received ad hoc training and can intervene at our customers' premises in case of breakdown.
Our added value also lies in our business models. For each of our products, the customer has three options: purchase, financial leasing with all services included or temporary rental. For example, if a customer needs interactive kiosks for a special event for a few days or weeks, we can provide them without any problem.
PDB: I would also add the efficiency and speed of our operational support. We have a 600 m² stock of parts and consumables in our facilities in Leudelange and our field staff is geolocated. In case of a call from one of our customers, our call desk immediately identifies, thanks to geolocation, the nearest and most qualified technician to intervene. In the case of the interactive terminal, it is really very fast. If the kiosk breaks down and needs to be repaired, which can take a long time, the technician replaces the equipment and reconnects the new device to the cloud in a few steps.