Offer clean air to your entourage
For the first time, a purifier offers a 360° cylindrical air inlet. Its concentric shape allows it to suck in air all around it, unlike its competitors who offer a monofocal air inlet.
Products available for sale or rental.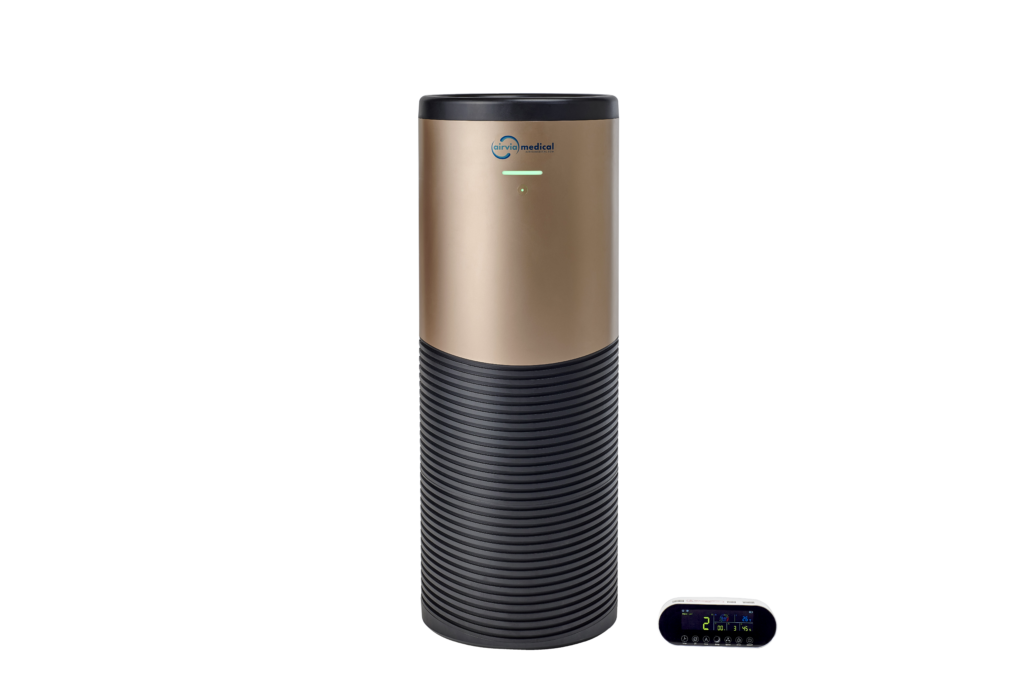 An air purifier designed for professionals
It can cover an area of up to 150 m². It is able to clean the air of your premises quickly and efficiently (filter HEPA). Completely silent, it can be discreet.
Its design is inspired by the aeronautical world and its filtration technologies come from the medical world. It has been designed to meet the needs of professionals.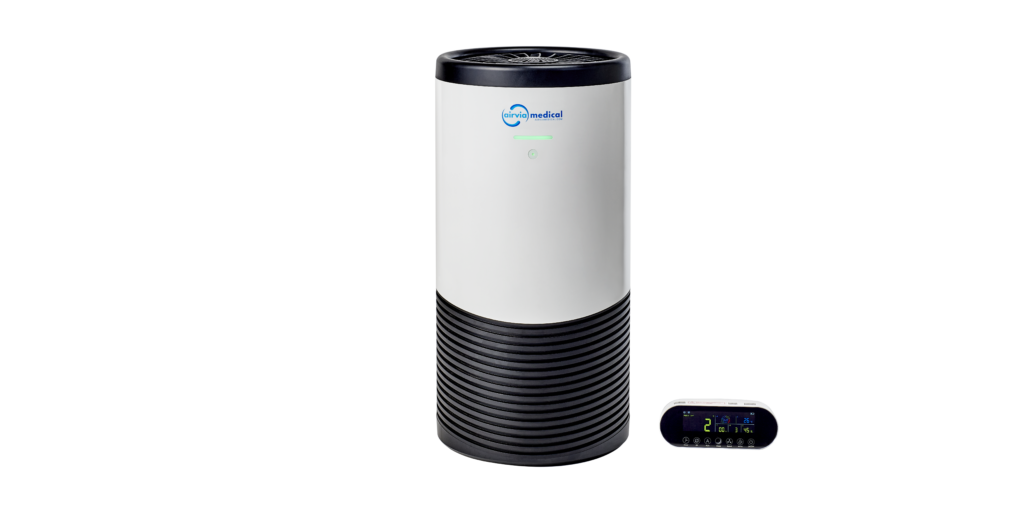 A versatile all-in-one air purifier.
It allows to cover a surface up to 100 m². It has been designed to adapt to all situations thanks to five speed levels and to all profiles, both individuals and professionals (hepa filter included). It is perfectly silent in speed 1 as well as in night mode but will surprise you with its power up to 500m3/h in speed 5.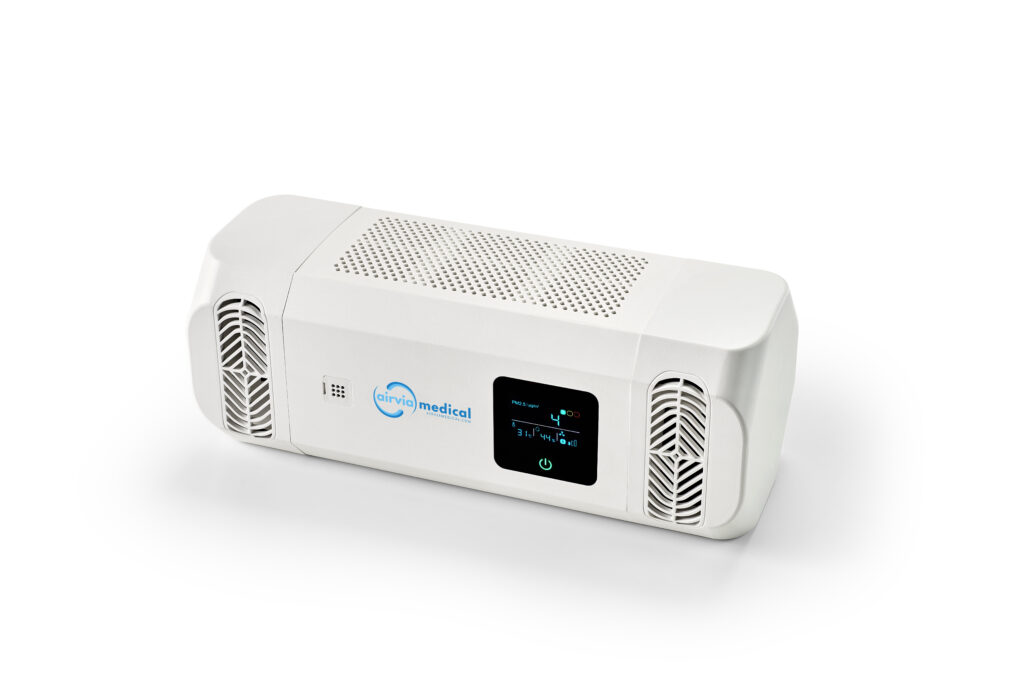 Enjoy fresh, clean air on the road.
It is effective against carcinogenic substances such as fine particles, cigarette smoke, volatile organic compounds (VOCs) and various air pollutants ("smog" type). It is also effective against allergens, mould and stubborn odours. A hepa filter included in the purifier.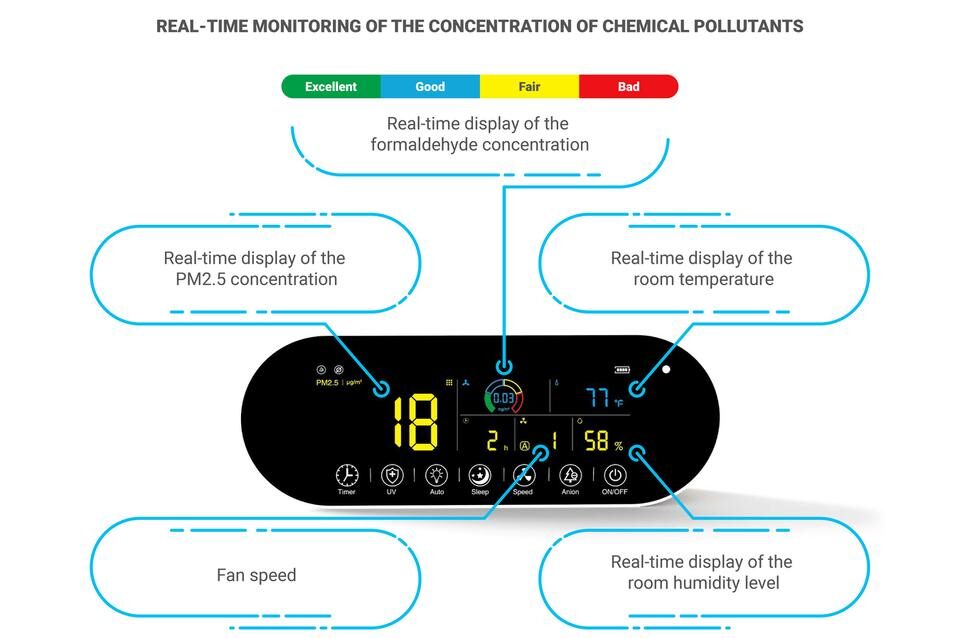 The AIRVIA Medical Remote Control Display displays the real-time air quality
The AIRVIA Medical Air Purifier comes with a smart Remote Control Display that allows you to check your indoor air quality at a glance. Thanks to a latest-generation laser and a chemical pollutant sensor, it can conveniently display all the essential data regarding the air you breathe.
The AIRVIA Medical Remote Control Display can be used as a regular remote control but it can also be connected to another device to remotely check your air quality. With the latter setup, you can not only check your air quality index (AQI) at any time but also the pollution level (PM2.5, PM1.0 and PM10) as well as the real-time concentration in formaldehyde. Our useful colour coding and organized digit display make it easy to get all the information you need.
The AIRVIA Medical Remote Control Display also provides information on the temperature and humidity level of your room, as well as on the fan speed of your device.
Eight steps to a purified air
AIRVIA Medical is an air purification device that combines eight different technologies (including a hepa filter) to provide you with clean air free of nanoparticles and allergens.
With AIRVIA Medical, the air in your home, your office or your clinic is freed from all dust, odours, impurities, allergens, fine particles, and volatile organic compounds. You can finally breathe in pure and healthy air, throughout the entire day. Key Benefits
• Different formats adapted to all types of environments.
• Intelligent and ergonomic design.
• Use of a high performance HEPA filter (H13 certified).
• Destruction of bacteria, viruses, pollen, allergens and elimination of all kinds of pollution
• Effective against carcinogenic substances, fine particles, cigarette smoke.
• Prevents mould and stubborn odours.
Are you interested in these products? Contact us!
Our experts will answer your request as soon as possible.
Are you looking for technical product brochures? They are here.