HP Latex 700 and 800 Series printer
HP
Strongpoints
Printing with white ink of unbeatable quality
Optimized drying system to reduce printing time
Real-time monitoring of the progress of print jobs
Optimized for your workstation: the printers can be placed against a wall to avoid loss of space.
Graphic coverings, window stickers, canvas and wallpaper, textile printing, graphic vehicle wraps, etc.
Eco-responsible: Use of water-based inks
Description
HP revolutionizes wide format printing by offering 4 new printer models 64″ (1m63). The two "W" models feature revolutionary technology for high-quality white ink printing. In addition, the overcoat becomes a full color for your prints.
The HP Latex 700 and 800 Series printers were designed to be highly productive while being less bulky. Their elegant design integrates perfectly into your workspace, they can be placed against a wall to avoid loss of space.
These professional printers are easy to use. Ink and media are loaded from the front of the machine, making them easy to use. In addition, inks cartridges can be changed without interrupting your ongoing production.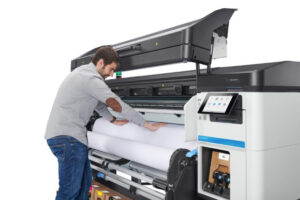 Note that an automatic recirculation and printhead cleaning system is integrated in order to reduce manual purging operations on your printers.
All printers are equipped with a touch-sensitive control panel to manage, control and optimize your jobs with ease.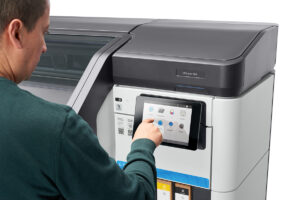 To support sustainability and eco-responsibility objectives, HP Latex printers use water-based ink, which also allows you to work in a more comfortable and secure environment.
Innovation: white ink
White HP Latex Ink is an innovation in the wide format printing industry. It allows to obtain a white of an incomparable quality on transparent or colored supports. White ink prints do not yellow over time.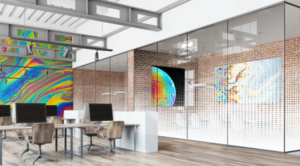 HP Latex 700 / 700W
The new HP Latex 700 Series offers 2 models:
HP Latex 700 – printing without white ink
HP Latex 700 W – printing with white ink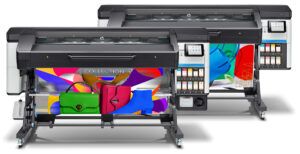 These printers designed for professionals are equipped with new print heads for more qualitative productions.
They offer a wide range of 8 (model 700) or 9 (model 700W) colors with a cartridge capacity of 1 liter.
Great innovation: white ink (model 700W). This makes it possible to obtain an opacity previously unrivalled. HP offers today the whitest white on the market (superior to any other type of printing). Your white prints will no longer yellow over time.
Finally, the 700/700W Latex printers also have an optimized drying system so that your jobs come out dry, allowing you to cut immediately at the end of printing. You gain in production speed.
HP Latex 800 / 800W
The new HP Latex 800 Series also offers 2 models :
HP Latex 800 – printing without white ink
HP Latex 800 W – printing with white ink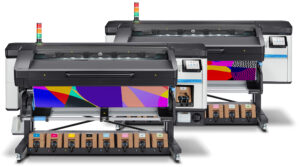 HP Latex 800 printers are models designed for production.
They have similar features to the HP Latex 700/700W printers but offer higher productivity.
The HP Latex 800 / 800W printers have a wide range of 9 colors with ink cartridges with a capacity of 3 liters. White ink is also available in the 800W version, allowing you to obtain a superior quality white.
The 800/800W models are equipped with a wider drying oven than the 700 models, allowing you to be more productive.
Eco-responsible ink cartridges 
HP continues to develop its environmental policy on its new 700 and 800 printers.
The use of water-based inks allows to work in a more comfortable and secure environment. Support your customers' sustainability goals while differentiating your business. HP Latex Technology is designed for maximum durability through superior printer and cartridge materials, ink chemistry, printer operation/print production, print tracking and quality, and end-of-life management.

Produce high value-added print jobs
Graphic coverings and stickers for shop windows
Canvas and wallpaper
Textile prints
Vehicle graphics
Some of our partners