Print
Product related to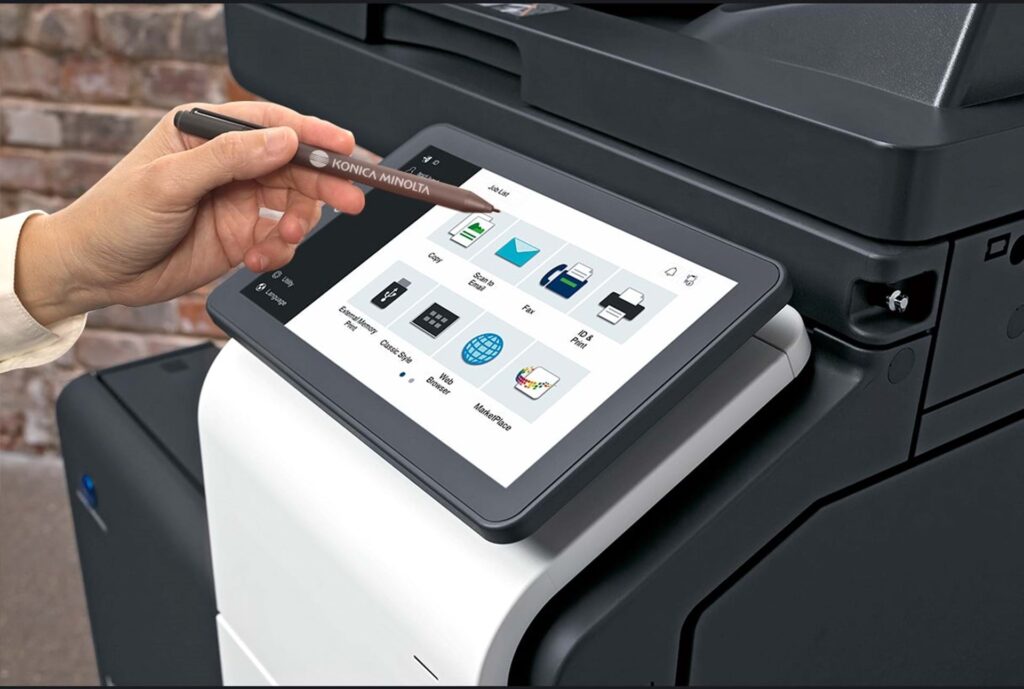 No contact! Use your multifunction in complete safety.
Print, copy, scan documents, all without touching the printer!
The return to the office requires companies to enforce corporate barrier gestures to ensure the safety and health of their employees. If some of them are well known to all, such as wearing a mask, physical distancing, hand washing or even the provision of hydroalcoholic gel... What about printing systems?
Printing, copying and scanning documents are recurring tasks carried out hundreds of times a day by all the employees of a company. In other words, all the employees of a company touch the printing system hundreds of times a day. So how can we avoid the maximum risk of exposure to COVID-19? Here are some simple but effective solutions that we can help you implement to avoid tactile interactions with printing systems:
1. REMOTELY CONTROL THE PANELS KEYS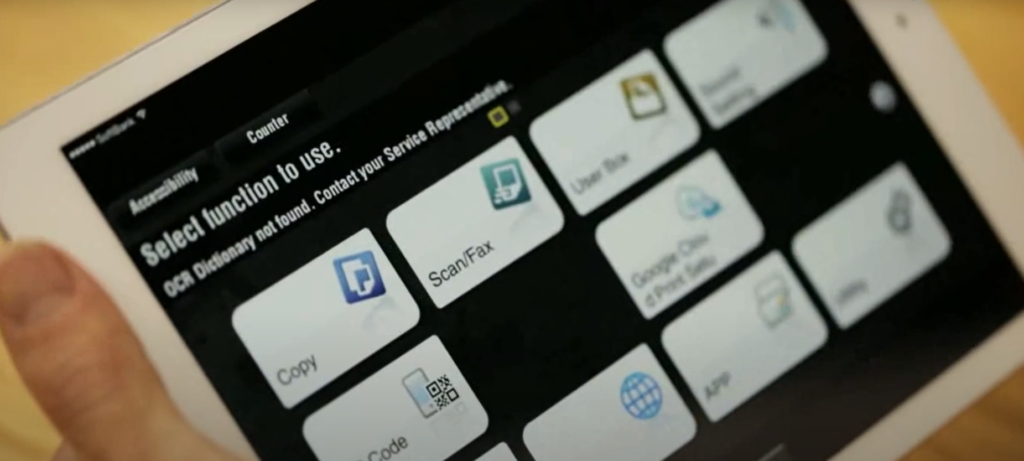 It is possible to remotely manage the MFP's control screen with a smartphone, tablet or computer, simply by activating certain features available for all Konica Minolta printing systems.
With the printer control panel, which is displayed directly on the screen of the mobile device or computer, users :
No longer need to press the keys on the print system control panel to release their jobs
Send scanned data from the MFP to a smartphone or tablet to open it in another application,
Can directly select a destination address with the smartphone to send scanned documents from the MFP.
To find out more about the different functionalities available for your printer or multifunction, please contact us.
We offer you two possibilities to free up your print jobs without having to touch the printing system :
Using a QR Code
For each printing system, it is possible to generate and print a QR Code to be glued near the respective device. With the help of an application downloaded to the users' smartphone (which must be connected to the company's wifi network), they can then release their jobs to any of the company's printing systems.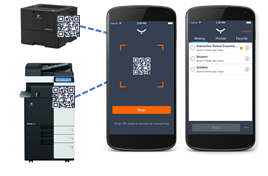 With a contactless badge reader
The majority of printing systems are compatible with our additional badge readers, allowing all pending prints to be triggered as soon as the user authenticates.
Contactless authentication, via a badge reader, eliminates the need for the user to touch the MFP screen to authenticate and release their jobs. The user will not need to be in contact with the MFP under any circumstances and the risk of exposure will be limited or even non-existent.
To find out if your printer or multifunction is compatible with a contactless badge solution, please contact us.
Charles Kieffer Group, thanks to its range of solutions, also offers you applications that will allow you to digitize your documents from your mobile terminals (phone, tablet, etc.). All you have to do is take pictures of the documents and inject them directly into a document search tool.
The solution we offer also has a mobile application capable of managing dematerialization workflows directly from your smartphone.
4. ULTIMATE BARRIER ACTION : CLEANING OF PRINTING SYSTEMS
Here are some recommendations to keep clean the parts of the printing system that are regularly touched : the panel (screen and keys), the document feeder or the display glass, the handles of the paper trays :
Clean with alcohol using a soft cloth moistened with IPA (isopropyl alcohol) or ethanol for disinfection.
Wear vinyl gloves when cleaning or wash your hands after cleaning.
Do not use sprays containing solvents.
Interested ?
VDo you have Konica Minolta printing equipment and want to know what features are available to secure and remotely manage your equipment? Fill out the contact form below and one of our experts will contact you to propose the most suitable solution for your company.