Portable workstation : HP ZBOOK CREATE
Description
The new standard for the serious creator
Real-time rendering. Sleek design. This device does it all. With NVIDIA® GeForce® RTX™ graphics and Z power combined, pro-grade performance has never been better.
Quiet comfortable more intuitive than ever
Used to working on a Mac? Now you can choose the Z Command Keyboard, which replicates a Mac layout, for a seamless switch. Enjoy greater responsiveness from our scissor mechanism with 1.3mm of travel. Plus, whisper-quiet rubber domes and anti-rattle brackets deliver a distraction-free typing experience.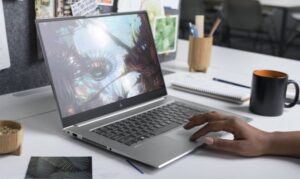 Vapor chamber
The vapor chamber vaporizes liquid, facilitating heat transfer from the GPU and CPU and distributing it throughout the chamber for more optimized cooling.
Fans and venting
Razor-thin liquid-crystal polymer fans and 3 sided venting make this our highest performing cooling solution to date.
Bios innovation
BIOS-level innovations detect and distribute power to the relevant components according to which app is in use- for more efficient power consumption and distribution.
Basic features
NVIDIA® GeForce® RTX graphic
Next gen Intel® Core i9
32 GB RAM
2TB local NVMe storage
Want to know more? Contact our IT expert
Some of our partners