Workstations HP Z Series (Z2/Z4/Z6/Z8)
Description
Our most powerful workstations
Create, render, and visualize at breakneck speeds with the state-of-the-art performance and flexibility of the HP Z2, Z4, and HP Z6 Workstations. Get 8K video simulation, editing and playback with the HP Z8, the state-of-the-art workstation.

Built for powerful software
Run even more simulations, design iterations, or edit 8k video in real time with the breathtaking power of the HP Z8.
Even more security
Advanced security features come standard on every HP Z8 Workstation. Rest assured your data is safe with HP Sure Start, the industry's first-ever BIOS with automatic repair, including intrusion detection.
A wide range
HP Z8: HP's most powerful workstation
HP Z6 : A powerhouse ready for the future. Perfect for VFX and 3D rendering.
HP Z4: HP's best-selling workstation. Designed for advanced 3D CAD, BIM and machine learning.
HP Z2: HP's most powerful entry-level workstation. Designed for graphics-intensive 2D design and 3D CAD.
Sample Configuration: HP Z8 Workstations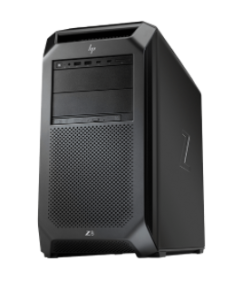 HP's most powerful workstation. Optimal for simulation, video editing and complex machine learning. Ideal for 3D simulations and edit your 8K video content in real time with high-quality workstation components and the highest memory capacity available.
48 cores
Memory 384 GB of memory
Storage 16 TB of storage
Graphics cards: NVIDIA Quadro RTX available
Windows 10 Pro
Intel® Xeon® processor
Any other configuration is possible, ask our IT expert.
Some of our partners