Speaker – Speechi 360° wireless microphone
Strongpoints
Weight : 380g
USB connection : yes
Autonomy : 8h (USB power supply)
Loudspeaker : 90 db at 1 m
Dimensions : 120 x 120 x 35.2 mm
Pickup range : over 5 m
Description
The new SPE-BM21 Speechi speaker-microphone is specially designed to enhance your meetings and videoconferences.
With its high-quality full-range sound, the Speechi loudspeaker-microphone offers optimum sound quality with 360° diffusion throughout the room.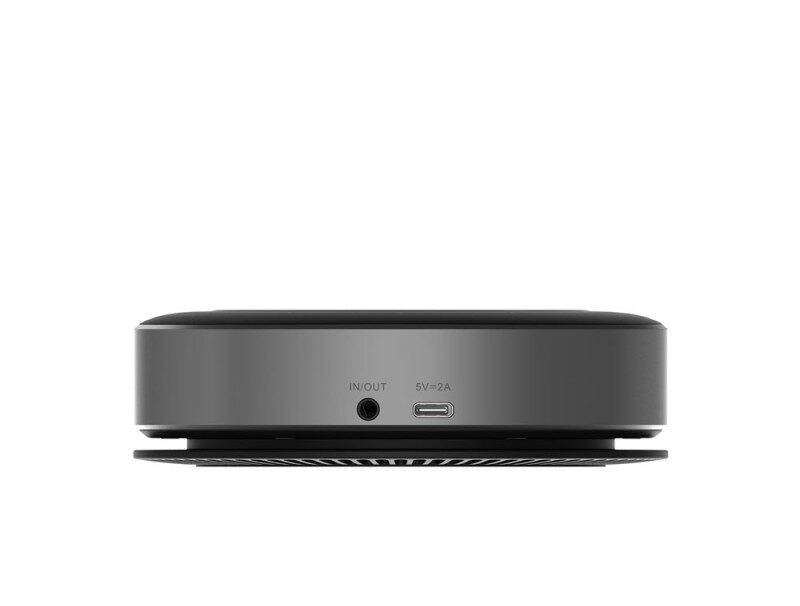 Speechi SPE speaker-microphone
BM21 wireless videoconferencing system
Take advantage of this completely wireless collaborative tool thanks to Bluetooth connection via your devices (compatible with computers, tablets, mobiles, headsets and all Windows, Mac, Android and iOS environments), giving you total mobility and adaptability wherever you are.
Compact and intuitive, all control buttons are touch-sensitive, so you can operate this product quickly and easily with call control, and take it with you wherever you go. Enjoy a long talk time of up to 8 hours.
The Speechi speaker-microphone: a collaborative tool for videoconferencing
The Speechi speaker-microphone is fully portable thanks to Bluetooth technology, for greater comfort and flexibility during videoconferencing. With a sound pick-up range of over 5 m and 360° diffusion, it's ideal for small and medium-sized meeting rooms.
Designed for BYOD, it's a compact collaborative tool that can follow you anywhere, just as it can be permanently installed in a meeting room dedicated to calls and interactive screen videoconferencing. It's compatible with all your mobile devices, whether computers, tablets (Windows, Mac, Android, iOS, etc.) or headsets, and you can also connect it via USB to your equipment as required.
Some of our partners